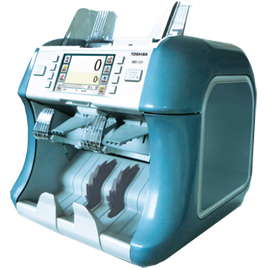 Toshiba IBS 200 Mixed Currency Sorter
Formally the Kisan Newton V, the Toshiba IBS 200 is one of our newest 1+1 pocket note counter and sorter. The Toshiba IBS 200 features value count, mixed note counting, note sorting, note authentication with stranger rejection and optional counterfeit detection.
Toshiba IBS 200: Feature Rich Functionality
Its unique clam chell design is packed with user friendly features at an affordable price point.Unlike traditional single pocket cash counters, a reject pocket allows for uninterrupted counting. So if your authenticating $20 bills, and a $5 strange bill is mixed in, it will reject the stranger so counting never stops.  The Toshiba IBS 200 also has a large 4.3″ color touch screen display with enlarged count results and user friendly icons. For those who prefer traditional buttons and even more added usability, the Toshiba IBS 200 features function keys on the side of the display that correspond to the touch screen functions. This unit includes USB, LAN and Serial connections with optional printer or remote display. Fast operation with 1200 notes/min counting, 800 notes/min Value counting, 600 note capacity hopper, 200 note stacker and 100 note reject pocket.
Questions about this product? 1-877-663-6128
Functions
Piece & Value Counting
Facing & Orientation
Authentication
Mixed Note Processing
Fitness Sorting (F Model Only)
Features
4.3″ Touch Panel
10 Function Keys
User-friendly Graphical User Interface
Easy Maintenance